On Thursday, hundreds will gather to pay their respects and offer words of inspiration to the memory of Sen. Jim Whelan. He leaves a legacy that impacted Atlantic City, Atlantic County, the region and the state.
I remember him most as a fellow mayor.
Someone you could depend on and look up to. Many remember him as a lifeguard, athlete, teacher, coach, councilman, assemblyman and, of course, two-term state senator. A career that spanned a lifetime.
"The ultimate measure of a man is not where he stands in moments of comfort and convenience, but where he stands at times of challenge and controversy," said Dr. Martin Luther King Jr.
I cannot attend Thursday's memorial service due to my health, but my thoughts and prayers will be there to remember a man who contributed a lasting legacy.
He was a true public servant.
Mayor Chuck Chiarello
Buena Vista Township
Richland Volunteer Fire Company added a new member to their fleet. A Rosenbauer 3000 Gallon Tender Freightliner. A grant of $23,500 was received to purchase the equipment for the new truck. Mayor Chuck Chiarello said, "we are happy any time that government funds can help the local firefighters in our community."
---
A Special Thank You to the men and women of NJ State Police Troop A for their continued support and protection here in Buena Vista Township.
---
Michael Debbi Parks Infamous Dance Floor has seen its fill. After a successful summer concert season, the dance floor was ruined in a rain storm before a 7pm performance. We are sad to see it go, but are already in the works of replacing it for next year's summer concert series! Shine up your shoes because it's going to need some breaking in!
---
Kenny I Entertainment was new to the lineup during Buena Vista Township's Summer Concert Series this year. He hit it out of the park with his talented team of musicians and signing.
---
Fire Trucks in Collings Lakes, lined the streets in memory of Deputy Chief Edwin R. Jones on July 18, 2017.
---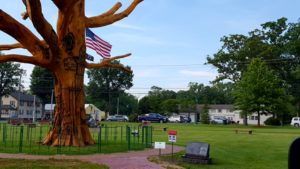 Stop by "The Tree Monument" in Saw Mill Park in Richland to pick up a copy of the Self-Guided Tour Brochure and take a walk around the tree. Over 40 Chainsaw Carvings to view, and even a hidden symbol. Can you find it?
Are you looking to build a single-family home in Buena Vista Township? The Township has three (3) prime residential lots for sale that are ready to be built on.
The Township of Buena Vista will sell the following real property not needed for public use to the highest bidder on September 11, 2017 at 5:30PM, Buena Vista Township Municipal Building, 890 Harding Highway, Buena, NJ 08310. Conditions of Sale can be obtained online at www.buenavistanj.com  and at the Township Clerk's Office, 890 Harding Highway, Buena, NJ 08310, Monday through Friday, between the hours of 9:00AM and 4:30PM.
CLICK HERE for TERMS and CONDITIONS
For questions, contact Lisa A. Tilton, Township Clerk at (856) 697-2100 ext. 11.
---
BLOCK 3801, LOT 10
LOCATION: 268 Pancoast Mill Road (Contains Structures on Property)
BUILDABLE: Property has approval for a Single-Family Home.
BUYER RESPONSIBILITY: Buyer is responsible for
Zoning Permit(s) and Building Permit(s)
SIZE: 5.96 Acres
ZONING: FA1
MINIMUM BID: $91,200
---
BLOCK 4302, LOT 3.01
LOCATION: 563 Railroad Boulevard (Vacant)
BUILDABLE: Property has Pinelands and Board approval for a Single-Family Home. BUYER RESPONSIBILITY: Buyer is responsible for Zoning Permit(s) and Building Permit(s)
SIZE: 3.20 Acres
ZONING: RDR1
MINIMUM BID: $65,400
---
BLOCK 4502, LOT 2
LOCATION: Pine Street (Vacant)
BUILDABLE: Property has Pinelands and Board approval for a Single-Family Home. BUYER RESPONSIBILITY: Buyer is responsible for Zoning Permit(s) and Building Permit(s)
SIZE: 3.20 Acres
ZONING: PVR1
MINIMUM BID: $65,400
Written by: Lisa A. Tilton, Township Clerk