Imagine shopping the world for holiday gifts without leaving New Jersey!! Come and shop for items from Thailand, Lebanon, Malaysia, India, Africa and many other countries at the Annual International Boutique Fundraiser.  This year's event will be held on Saturday, December 2 from 10 am to 6 pm and Sunday, December 3 from 10 am to 5 pm at the St. Augustine Prep School, 611 Cedar Ave. in Richland.
This Fundraiser is sponsored by AMURTEL, an international relief organization whose projects aid and empower women and children around the world.  All proceeds from the sale will be used to help women and children locally and abroad.  Please visit their website at www.amurtel.org to learn more.  You can also go on line to www.internationalboutique.org to view some of the items that will be available for sale on the above dates.
Beirut, Kuala Lumpur, New Delhi, Katmandu, exotic places all, where wonderful and unique items can be found and  purchased for AMURTEL's International Boutique fundraiser.  The main focus in traveling is shopping for the gifts and also visiting the  AMURTEL projects that they support.
Halloween Fun Day a Huge Success
The 13th Annual Saw Mill Park Halloween Fun Day was held on Saturday, October 21st.  The event drew a huge crowd that joined in the festivities that included a Pumpkin Decorating, Hay Rides, Trick or Treating around the park and much more.  There was also a costume parade with candy and prizes and judging of the coloring contest.  The Patcong Valley Model Railroad Museum was also open during the event.
The Township Environmental Commission gave away pumpkins for each child to decorate.   As you can see from the photos below, everyone was decked out in their best costumes for the day.  Thanks to the members of the Special Events Committee and Environmental Commission for coordinating the event.
---
St. Augustine Prep. Installation Mass for Father Murray
On September 20th Committeeman John Armato and Committeeman John Williams attended the Installation Mass of the New Head of School Father Robert J. Murray.
---
High School Conducts Distracted Driving Seminar and Simulation
Municipal Drug Alliance partnered with Buena Regional High School in conducting a Distracting Driving Seminar and Simulation. Committeeman John Armato and Assemblyman Vince Mazzeo attended the event and spoke with the students.
---
Volunteer Fire Companies Win Awards at Annual Convention
On September 16th three Volunteer Fire Companies in Buena Vista Township attended the Annual New Jersey State Fireman's Association Convention in Wildwood, NJ. Each Volunteer Fire Company won an award.
Collings Lakes placed 1st for Marching and received the Special Judges Committee Award in the Memory of Chief Ed Jones.
East Vineland placed 1st for Best Appearing Tanker Straight or Tractor Drawn for Tanker Truck 1222, Best Appearing Unit from Atlantic County Overall for Unit 1220 and Best Appearing Engine Any Size Pump 25-years and Older.
Richland Fire Company placed 2nd for Best Appearing Straight or Tractor Drawn Tanker 1500 gal. or more.
---
MLK Community Center Hosts Veterans Breakfast
Many showed up at the Annual Veterans Breakfast to annual those that have served. Many children wrote thank you cards for the Veterans.  Pictured is Deputy Mayor Teresa Kelly, Committeeman John Armato, Committeeman John Williams, David Turner and members of "We Care".
---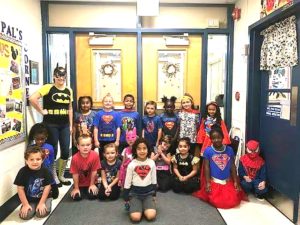 Elementary Students Become Hero's for a Day
Students from Collings Lakes Elementary School dressed as their favorite hero for a day. Superman, Spiderman and Batman all showed up.
---
Students Tour Collings Lakes Fire Company
Students toured Collings Lakes Vol. Fire Company and received a demonstration on fire safety. Fun was had by all and the kids enjoyed the day.
Did you know Buena Vista Township has a Community Garden? Impact Harvest, a local non-profit organization; along with a couple hundred volunteers built the garden two years ago at the Dr. Martin Luther King Center in Newtonville.
The garden was built to serve the residents, but we need help. Impact Harvest is looking for committed volunteers to help with the garden next season. It's light work and there is no experience necessary. All ages, abilities, and groups are welcome to help. All volunteers are welcome to share the bounty of harvest from the garden. If you are interested in helping next spring, please contact Valerie Behrens at (609) 440-6717 or val_behrens@impactharvest.org