Getting here is half the fun…
Childhood drives to the shore are fondly remembered
Many family vacations at the beach have created memories that will last a lifetime.
As a child and teenager, long before I moved here permanently, I was fortunate to experience a lot of the Jersey Shore through weekend trips to Cape May and Avalon, and weeklong vacations in Sea Isle City and North Wildwood. Swimming in the pool, going to the beach, eating at restaurants, going fishing, walking the boardwalk or promenade – we did it all.
Recently, though, different memories were jarred loose when I had to travel to Marlton for the funeral of a longtime family friend. Although the occasion was sad, the familiar route brought back memories of rides that were quite joyous.
My parents eschewed the traditional Walt Whiteman Bridge-Atlantic City Expressway-Garden State Parkway route to and from the beach. Instead, we traveled the back roads that led from the hustle and bustle of the big city to the peace and quiet of the Jersey Shore.
Hailing from Northeast Philly, our journey often began on the Tacony-Palmyra Bridge, probably the largest bridge I've ever been on that opens for boat traffic. From there it was a jaunt down Route 73, which many times resulted in a stop at Roger Wilco in Pennsauken so Mom and Dad could buy an adult beverage (or three) for the weekend. Back in those days (man, I feel old just typing those words) the Route 73 corridor wasn't as developed as it is today. In the late 1970s and early 1980s, there wasn't much once you got south of the Marlton-Berlin area. Now it seems as if there is a traffic light every half mile.
At the southern edge of 73 we'd drive past the entrance to the Atlantic City Expressway, and that's where the journey got fun. In the beginning, I was a 6- or 7-year-old kid who lived right smack in the middle of a street of row homes in the urban jungle, peering wide-eyed at the farms and open spaces in the neat little town of Folsom just outside Hammonton as we drove on a short spur from the end of 73 to Route 54.
Turning south on Route 54, we would see a series of trailer parks and dilapidated homes, and I'd realize how lucky I was to be driving through the area rather than having to call it home.
A little more than halfway down 54, we'd pass a sign for Buena Regional High School. As a shoobie, I always pronounced it "BWAY-nah." It wasn't until I moved here in the mid 1990s that I learned that to the locals, it is "BYOU-nah."
In the heart of Buena Vista Township a series of roads came together. I remember the gas station that still stands there – it was the only Hess station I remember ever seeing as a child – and I recall sometimes being among the long line of cars waiting to fill up during the gas crisis of the 1970s.
From there it was a turn onto a brilliantly scenic ride along Route 557, which cut from the southern edge of Buena Vista through an area just outside of Vineland down to Estell Manor. That road was always the most memorable part of the trip, mostly because we'd often stop at the popular 5 Points Inn for pizza and a peek at the Phillies game on TV. The 5 Points, which still does a booming business, was ahead of its time. It was a great sports bar before the term was even invented.
Below 5 Points was Bertuzzi's Farm Market – it's still there – where we'd stop once in a while to grab some fresh fruit. There was nothing like a perfectly ripe peach to bite into in the back seat of our green 1976 Ford Gran Torino, even if I didn't have anything to wipe my face and hands with when the juice came oozing out. I wonder if my parents ever noticed my brother and me using the back seat as a napkin.
We would pass through Dorothy, a little town where it seemed like no one was ever home in the houses that occasionally appeared along the road. There's also this road that pops up on the southern side, Route 666, which we never traveled. The darkness of it and its obviously satanic number made me gulp with fear each time we passed it. I swore we'd see the Jersey Devil if Dad ever decided to turn there.
Toward the bottom of 557 we'd cruise over a bridge that brought on the last two or three miles of the road. That part of the road was pitch black at night, since there were no streetlights and the few homes sat back mostly secluded from sight. I remember Dad turning on what back then were called the car's "double lights," and they would illuminate the road like a spotlight. As insignificant as it seems now, it was an exciting moment for a city kid, seeing our headlights cut through an endless cloak of darkness.
A right turn onto Route 50 put us back into civilization. Then it was down through another throwback town, Tuckahoe, a place that seemed to have one of each essential – a bank, a diner, a general store and a pizza shop. Oh, and a cheesecake factory.
Our back-road journey essentially ended at the intersection of Routes 9 and 50, which coincidentally is the location of the building from which this publication is produced.
Then it was onto the parkway for the short jaunt to the Sea Isle exit or points beyond.
Upon arrival at the house or motel, I'd all but forget the trip. But then on departure day, I'd always look forward to the journey through all those quirky back roads.
(Shore News Today, by Joan Kostiuk, 6/9/11)
---
HOLY MOJITO, BATMAN: Farmer leaves field in mint condition
The owners of Dalponte Farms carved a crop circle in the shape of the Bacardi Bat into a six-acre swath of their mint fields in Buena Vista. Bacardi, who buys the mint for its trademark Mojito drink from the Dalponte family, paid for the work, which took more than 300 man hours.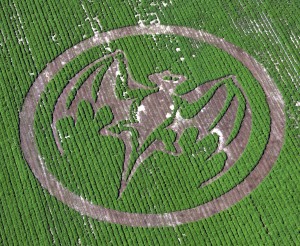 By the numbers…
How much mint was removed from Dalponte Farms for the crop circle?
2,500 crates — or 12,500 pounds.
That's enough mint for making 1,416,666 mojito drinks.
BUENA VISTA — The community that temporarily named itself after an alcoholic drink in 2004 has gone totally batty.
For two weeks last May, the township's Richland section was renamed Mojito in honor of the popular rum-based summer drink whose key ingredient is mint. Rum maker Bacardi promotes mojitos and buys fresh mint from Dalponte Farms off Llewellyn Avenue in order to showcase the drink at different publicity events.
The renaming brought national attention to the often-overlooked community. But Laura Baddish, the New York-based advertising executive representing Bacardi, was looking for a new way this year to draw attention to Richland's mojito roots.
"So, we had a crop circle in the form of a bat done on the Dalponte farm," she said.
A bat has been Bacardi's logo since the company, now based in Miami, began in Cuba in 1862. "It represents prosperity and good fortune," Baddish explained.
The crop circle isn't the work of extraterrestrials, although out-of-towners were called in to create the 180-foot-wide circle that encloses a 1.5-acre bat carving on the Dalponte family's 300-acre farm.
Harrison Jenkins, an environmental design artist from Bloomfield, Conn., and two helpers took three days to design it.
"It was amazing how they did it," said Dennis "Denny" Dalponte Jr., 31, a fourth-generation member of the mint-growing family. "They had lawn mowers, weed whackers, wooden stakes and string as tools. First, they used the mowers to chop down some of the mint plants, which are about 3 feet high to the root level, so they could make the circle and then the wings, ears, eyes, nose and body of the bat. Everything was perfectly circular and linear."
Dalponte said Bacardi paid the family an undisclosed sum to use a 6-acre mint patch on the property's outskirts. The crop circle should remain distinguishable from an airplane for at least a month before the vegetation grows back, he said.
Dalponte said the crop circle is the first of its kind to be cut into a mint field, and Bacardi plans to get it certified by Guinness World Records as the biggest mint crop circle in existence.
"Last year, 207 crop circles occurred in this country, and 195 of them just suddenly appeared without any explanation," Dalponte noted. "However, I can't say I saw any drunken extra-terrestrials with a few mojitos under their belts here working on our crop circle. We had the help of an earthly alien — alien because he came from another state."
Dalponte said he didn't think the crop circle was very impressive while observing it from ground level. But once he took a plane flight over the farm with a pilot neighbor, he realized what a fine work of art it was.
Baddish said she and other Bacardi executives love the fresh mint grown by the Dalpontes.
"We order at least 500 boxes a year from them," she said.
Buena Vista Mayor, Chuck Chiarello, said he realizes Richland's renaming was a one-shot deal — something he'll never forget.
"Naming Richland Mojito makes you realize that the mint used in the drink is grown locally by one of the largest mint farms in the country and that this local product is shipped worldwide," he said.
Chiarello said he heard about the crop circle earlier this week from Carlo Merighi, a service station owner in Richland and licensed pilot who had been making trips over the Dalponte farm in his two-seater Cessna aircraft to view the sight from the air.
Realizing that the crop circle was manmade shattered Chiarello's fantasy that such occurrences are the work of visitors from another planet, he said.
"For me, crop circles were one of those great mysteries of life," he said with a sigh. "Now we have one of our very own."
(~ Bacardi supplier signs off on rum drink embraced by Buena Vista 5/19/05)