Richland Volunteer Fire Company added a new member to their fleet. A Rosenbauer 3000 Gallon Tender Freightliner. A grant of $23,500 was received to purchase the equipment for the new truck. Mayor Chuck Chiarello said, "we are happy any time that government funds can help the local firefighters in our community."
---
A Special Thank You to the men and women of NJ State Police Troop A for their continued support and protection here in Buena Vista Township.
---
Michael Debbi Parks Infamous Dance Floor has seen its fill. After a successful summer concert season, the dance floor was ruined in a rain storm before a 7pm performance. We are sad to see it go, but are already in the works of replacing it for next year's summer concert series! Shine up your shoes because it's going to need some breaking in!
---
Kenny I Entertainment was new to the lineup during Buena Vista Township's Summer Concert Series this year. He hit it out of the park with his talented team of musicians and signing.
---
Fire Trucks in Collings Lakes, lined the streets in memory of Deputy Chief Edwin R. Jones on July 18, 2017.
---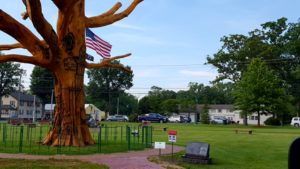 Stop by "The Tree Monument" in Saw Mill Park in Richland to pick up a copy of the Self-Guided Tour Brochure and take a walk around the tree. Over 40 Chainsaw Carvings to view, and even a hidden symbol. Can you find it?